Roll over image to zoom in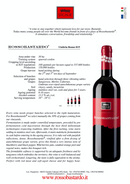 Description
Full Body, Fruity (Sangiovese, Merlot, Cabernet Sauvignon, late harvest Sagrantino). IGT. 13.5% Alc.
As well as a catchy name this wine is addictively easy-drinking; smooth and fruity, with peppery notes.
WINERY NOTES: "Every Wine needs proper bunches selected to the right maturation. Fermentation is made under controlled temperature, preceded by pre-fermentation cold maceration through the best third millennium technologies respecting tradition. After the first racking, wine starts settling in stainless steel vats. Afterwards, it starts malolactic fermentation in cask before entering in the ageing process. It is ruby red with purplish reflections, dense. Rossobastardo, vinified after a firm drying of autochthonous grape variety, gives this blend a very intense note of blackberry and black pepper. Wild berries jam, candied orange peel and vegetal notes, makes this bouquet rich. The formidable softness is supported by an adequate freshness and by richness of flavours which embodies the territory; this wine is well-balanced and well-orchestrated. Lingering, the taste is fully equivalent to the aroma. Perfect with red meat and soft-aged cheese and for happy hour."
"A wine to stay together which represent love for our town: Bastardo. Today many young people all over the World become friends in front of a glass of Rossobastardo - It stimulates conversation, friendship and relationship."
NB: Sagrantino boasts exceptionally high levels of artery-cleaning polyphenols. Read more bout this healthy-heart grape here: blogs/news/sagrantino-the-healthy-heart-grape and explore all our Sagrantino products from wine to juice and jam!
Payment & Security
Your payment information is processed securely. We do not store credit card details nor have access to your credit card information.