Roll over image to zoom in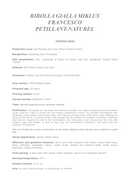 Description
Medium Body, Dry (Ribollo Gialla). Alc 13%.
Slightly frizzante white wine, from the Miklus family winery.

One of our most unusual wines - visually like cloudy apple juice; a soft perlage (slightly frizzante); vegetal and floral with notes of under-ripe pear, apricot and peach, plus some exotic fruit (guava, papaya) and possible even cactus; a noticeable yeasty character (think peach cobbler, pear tartin). This is a unique option for a refreshing, dry, savoury aperitif - especially for anyone who likes a dry martini to kick off the evening!
The winemaking method used here is known as Ancestral* (Methode Ancestrale), or you may know it as Pet-nat (Petillant-Naturel) or a naturally sparkling wine.
The perlage of most Ancestral Method wines is gently fizzy, instead of noticeably bubbly - as you would expect with most sparkling wines (and Italian sparkling wines usually state spumante on the bottle). In Italy, this gently fizzy style usually states frizzante on the bottle. Think of it as a tongue-tickling wine! 
*Using the Ancestral Method, bubbles of CO2 occur naturally during the first (and only) fermentation process, compared to other methods of sparkling wine production where a second fermentation is initiated in a tank (charmat method, as used for Prosecco, Lambrusco and others) or in the bottle (traditional method, as used for Champagne, Cava etc). For more details on the common styles of sparkling wine, check out the blog post here: https://onceuponavine.sg/blogs/news/italian-bubbles.
Winery notes: wine made without herbicides, low sulphite content, low environmental impact.
Miklus range = Natural Art range:
No use of herbicide
Organic agriculture
Working with MOON

phases
Spontaneous fermentations
No control of temperature, unclarified, unfiltered
Minimum sulphite content
Fermentations/aging in wooden barrels
Payment & Security
Your payment information is processed securely. We do not store credit card details nor have access to your credit card information.