Roll over image to zoom in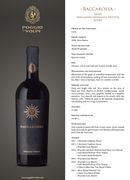 Description
Full Body, Fruity (Nerobuono). IGP. 13.5% Alc.
99/99 pts Luca Maroni.
Dry red with a fruity character, from rare* vines that thrive overlooking the Eternal City of Rome. Try this powerful wine with a steak or aged cheese.
Who should try this wine? Fans of Bolgheri wines, or aged Bordeaux blends, should enjoy this rich, smooth red with its balance of power and structure. More tannic structure than  most Primitivo/Zinfandel, but a similar 'dark fruit and spice' character.
*The Nerobuono grape is one of the world's few "teinturiers" - referring to a vine that produces fruit with intensely coloured skin and juice.
Payment & Security
Your payment information is processed securely. We do not store credit card details nor have access to your credit card information.