Roll over image to zoom in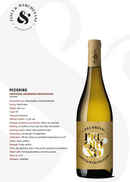 Description
Medium Body, Fruity (Pecorino). DOC. Alc 12.5%.
Gold (Gilbert Gaillard International Challenge 2022); Silver + 85 pts (Wine Award International Challenge 2022); Bronze + 87 pts (Decanter World Wine Awards 2022).
Colour: Straw yellow ... Bouquet: Fruity, earthy ... Taste: Dry, pleasant with a long aroma-gustatory persistence ... Match with: Fish-based starters and first courses.
FUN FACT: the name of the grape is thought to derive from the local sheep (aka pecora) that came down from the hills to nibble the ripening fruit around harvest time. Easy to remember if you think of Pecorino cheese (ie: ewe's milk cheese)!
Payment & Security
Your payment information is processed securely. We do not store credit card details nor have access to your credit card information.