Roll over image to zoom in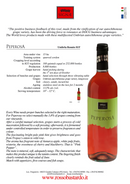 Description
Medium Body, Dry (Sangiovese, Sagrantino). IGT*.
Like a glass of rosato on a sunny afternoon? This Umbrian rosato is a delicious blend of Sangiovese and Sagrantino (the 'healthy heart' grape that cleans your heart).
WINERY NOTES: Every Wine needs proper bunches selected to the right maturation. For Peperosa we select the 3.4% of grapes suitable for this wine. After a careful manual selection, grapes starts a process of cold maceration followed by a soft pressing; afterwards, it is fermented under controlled temperature in order to preserve fragrances and colour. The fascinating bright pale pink hint gives brightness and goes from Tropea's onion to wild rose. The aroma has fragrant note of Annurca apple, white pulp fruits, wisteria, the sweetness of cherry and blackberry. That is "Pink Pepper." The taste is mineral, soft, adequately sapid. The characteristic that makes this product unique is the tannin content. The long finish clearly reminds the fruit salad of June. Match with appetizers, first courses and fish soups.
NB: Sagrantino boasts exceptionally high levels of artery-cleaning polyphenols. Read more bout this healthy-heart grape here: blogs/news/sagrantino-the-healthy-heart-grape and explore all our Sagrantino products from wine to juice and jam!
* A note from the winemaker about choosing to make IGT over DOC/DOCG wines: "The positive feedback on this rose, made from the vinification of our autochthonous grape variety, has been the driving force to renounce DOCG business advantages. The world loves products made with these multifaceted Umbrian autochthonous grape varieties."
Payment & Security
Your payment information is processed securely. We do not store credit card details nor have access to your credit card information.