Roll over image to zoom in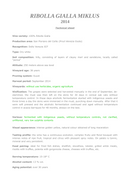 Description
ORANGE WINE (made from WHITE grapes vinified like a RED wine - with skin contact)
Medium Body, Dry (Ribolla Gialla). DOC. Alc 13.5%.
Special skin-contact (orange) Friuli wine from the Miklus family winery. 3/3 glasses Gambero Rosso.
TASTING NOTES: dark yellow to light orange in colour with some classic orange wine notes (flowers and seeds); a bold floral nose with warm ripe citrus notes (tangerine) plus some savoury, smokey, peppery and bitter notes; think of 'Christmas' aromas and tastes like dried apricot, toasted almond and sunbaked earth! A special, bold wine for a wine-drinker keen to explore the road less traveled :)
WINERY NOTES: wine made without herbicides, low sulphite content, low environmental impact.
Miklus range = Natural Art range:
No use of herbicide
Organic agriculture
Working with MOON

phases
Spontaneous fermentations
No control of temperature, unclarified, unfiltered
Minimum sulphite content
Fermentations/aging in wooden barrels
Payment & Security
Your payment information is processed securely. We do not store credit card details nor have access to your credit card information.