Roll over image to zoom in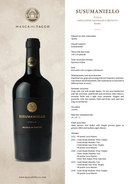 Description
Full Body, Fruity (Susumaniello*). IGP. 14.5% Alc.
Gold Medal Berliner Wine Trophy; Gold Medal Mundus Vini; Gold Medal Asia Wine Trophy; 99/99 Luca Maroni.
NEW bottle design … still very cute :) and makes a lovely gift idea.
Smooth and quaffable red from this very rare (almost 'lost') local grape of Apulia.
Expect red and black fruit, a hint of sweet spice and smokey notes. It's very smooth and soft in the mouth; velvety, plush tannins. Perfect with BBQ, sticky ribs or even a spicy dish like Rendang :)
* Susumaniello is an ancient grape from Salerno, Apulia and the name means little donkey in the local dialect (probably thanks to its "vigour and ability to bear heavy loads especially when young, like a donkey" according to globe-trotting winemaker Mark Shannon ... or possible from the Roman god of evening rain, Sumanus.

NB: Wine produced at sister estate Masca del Tacco of Apulia. (To find out more about the Lazio wines by Poggio Le Volpi, click here.)
Payment & Security
Your payment information is processed securely. We do not store credit card details nor have access to your credit card information.