Roll over image to zoom in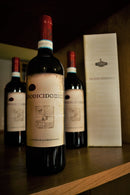 Description
Medium Body, Fruity (Barbera). DOC Oltrepo Pavese Barbera. Alc 15.5%.
Psst! The name refers to the year the castle was inaugurated (1212).
Great introduction to this juicy local grape (cherry notes), from historic castle estate with prestigious heritage of Barbera wines.
Tasting in late 2022, shows lots of floral and fruit notes still, from red plum, black cherry and blueberry to violets, with a hint of pepper. An expressive wine, with medium acidity, medium tannin and a smooth character. Manages to balance a brightness and freshness, with lovely warmth.
TASTING NOTES: Fruity nose with hints of cherry, plum, forest fruits and spices. Elegant and balanced palate, with a distinct personality.
CELLAR NOTES: Vinification involves 12-15 days maceration, alcoholic fermentation in stainless steel, malolactic fermentation in large French oak barrels and then 8 months refinement in the barrel followed by a further 8 months in the bottle.
LEARN MORE: Follow this link to a podcast by Wine For Normal People that's useful for understanding more about the grape BARBERA!
MEET THE WINERY: Click here to read more background on this family-run estate.
Payment & Security
Your payment information is processed securely. We do not store credit card details nor have access to your credit card information.