Roll over image to zoom in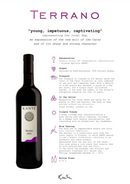 Description
Medium Body, Dry (Terrano).
A fresh red that will invigorate your palate at the start of the meal.
In the winemaker's words: "The Terrano is a traditional wine from the Carso region in Trieste, to which KANTE wanted to add a modern vinification, resulting in an authentic and noble product. Associated with the red soil of the Carso, this wine gives a rich scent that recalls that of wild berries and ripe red fruit. In the mouth the pleasant and distinct and persistent freshness will marvel you".
• Terrano is a sub-variety of the Refosco family, native to Venizia Giulia and western Slovenia
• Vineyards planted at over 800 feet above sea level
• Maceration last 3 weeks
• Aged for 36 months in old barrels
• Bottle unfiltered
A NOTE ON THE WINERY:
- At the Kante vineyards the grapes are harvested by hand.
- In the cellar, wines are neither fined nor filtered and no new oak is used (barrels are up to 18 years old). This is Edi's style and philosophy of winemaking.
Payment & Security
Your payment information is processed securely. We do not store credit card details nor have access to your credit card information.