Roll over image to zoom in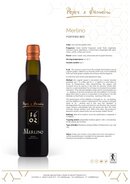 Description
Full Body, Fruity (Lagrein). Unique red dessert wine! Alc 19%.
2017 vintage wine made from local red grape Lagrein, fortified like a port using 2004 vintage Divino*, then aged in brandy barrels. Perfect with strong cheese or a rich chocolate cake ... or on its own as a nightcap!
* DIVINO = Pojer & Sandri's own special brandy, distilled from Schiava and Lagarino grapes, which has been matured in wood for more than 10 years.
Payment & Security
Your payment information is processed securely. We do not store credit card details nor have access to your credit card information.