Roll over image to zoom in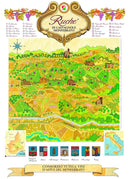 Description
Full Body, Dry (Ruche). DOCG. Alc 15.5%.
RP 92 points.
RUCHÈ OF CASTAGNOLE MONFERRATO D.O.C.G.
Flagship wine from family estate, showcasing Piemonte's rarest grape (and one of only red 'aromatic' wines).
TASTING NOTES: Floral nose with red fruit and forest floor notes, plus hints of spice. Reminiscent of a Nebbiolo and a Pinot Nero/Noir, plus some similarity to Sangiovese and old world Syrah - this rare RUCHE grape has an incredible aromatic character, great acidity, crunchy tannins, and a long finish! 
WINERY NOTES:
ESTATE: The family-run Ferraris estate is located in Asti, within the Castagnole Monferrato appellation. Winemaker Luca Ferraris ages his boutique wines in a deep cellar that was first built in the 1400s and then expanded and finished by Luca's grandfather. He believes in five elements that characterise his award-winning wines - sun, earth, warmth, scent and aroma. The heritage of the Ferraris estate lives on through the respect Luca shows for both his grandfather's teachings and the land itself.
WINE: Born from the love that binds a grandfather and a grandson, the company's founder and his future heir, Opera Prima is a new interpretation of Ruché. A wine of the highest quality, dedicated to the most discerning palates. The creation of such a product begins with the perfect vineyard, Bricco della Gioia, a small plot where the soil, exposure, microclimate, care and selection combine to create a unique and inimitable wine. At its heart the wine is a deep and compact ruby red with an initial garnet nuance. Once poured an elegant blend of blackberries, dried plums and sub-glazed cherries emerge, intertwining with floral hints of rose petals. Despite its relative youth, the wine's refinement in wood allows for tertiary notes to appear, from which mentholated aromas, sweet tobacco and fine spices can be recognized. The quality of this flagship wine is confirmed on the palate: its power and structure are balanced by elegance and finesse, while the warm, soft and persistent taste is harmonized by fruit and fine tannin. The company's "jewel", each bottle of Opera Prima is stored in a unique cellar carved out of the ground that has belonged to the family for generations, waiting for a special moment to be shared.
Payment & Security
Your payment information is processed securely. We do not store credit card details nor have access to your credit card information.