Roll over image to zoom in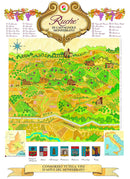 Description
Medium Body, Dry (Ruche). Alc 15%.
RUCHÈ DI CASTAGNOLE MONFERRATO DOCG
This special wine boasts a great history* thanks to the priest who championed the unique, rare, Piedmomt variety, Ruche.
A single vineyard expression of an aromatic red grape. Think Nebbiolo meets Pinot Nero/Noir (and a hint of Sangiovese plus old-world style Syrah).
* The 2016 was the first release from Luca Ferraris, as it was the first time he could make a vintage from the special vineyard originally owned by the priest who 'discovered' and studied the Ruche vine, hence the wine's name Vigna Del Parroco. The bottle design was also originated by the priest and is only allowed for the bottling of this particular wine. 
WINERY NOTES:
ESTATE: The family-run Ferraris estate is located in Asti, within the Castagnole Monferrato appellation. Winemaker Luca Ferraris ages his boutique wines in a deep cellar that was first built in the 1400s and then expanded and finished by Luca's grandfather. He believes in five elements that characterise his award-winning wines - sun, earth, warmth, scent and aroma. The heritage of the Ferraris estate lives on through the respect Luca shows for both his grandfather's teachings and the land itself.
WINE: In the glass it takes attention to its color, ruby red with light violet reflexes that turn, with aging, in orange juice. The bouquet, enduring and persistent, is characterized by a remarkable aromatic perception, melting the scent of purple and pink canine. If tasted a young man expresses the best of himself: so appreciate for his notes of ripe plum, blackberries, raspberries and black pepper blend with a velvety wrap-around feeling for his soft taste and balanced body, good intensity and Length of flavor. Equipped with low acidity, high alcoholic strength and aromatic aftertaste.
RUCHE'S DENOMINATION: "Ruchè di Castagnole Monferrato" is a small DOCG, covering seven municipalities, some only partially: Castagnole Monferrato, Montemagno, Viarigi, Refrancore, Scurzolengo, Portacomaro and Grana.
- In 2016 there were 136 hectares (they were 103 in 2011 and only 10 in 1988), 35 companies and more than 77,000 bottles produced against 499,000 in 2011. The 35% of the wine is exported all over the world.
- Ruchè: must be written with the grave stress and, even if Piedmont is close to France, must be pronounced "rookè" and not "rooshè".
- Castagnole Monferrato, in the Province of Asti, is one of those villages with "name and surname" to distinguish them from other villages (Castagnole Lanze) and claiming to be part of Monferrato: a region which had been for seven centuries a small state, celebrated since the Middle Ages for its production of fine wines.
- Ruchè is a red grape variety. The grape ripens in mid-September. The berry is medium-sized. The fruit is very sweet and rich in aromatic precursors, especially terpyneols. It is usually vinified in red to obtain a dry wine, slightly aromatic, with hints of rose, violet and spices, ruby ​​red, full-bodied and slightly tannic.
Payment & Security
Your payment information is processed securely. We do not store credit card details nor have access to your credit card information.