Roll over image to zoom in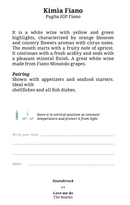 Description
Full Body, Fruity (Fiano Minutolo). Puglia IGP Fiano. Alc 12.5%.
White wine from highly-awarded Apulian winemaker* specialising in south Italy's most important local grapes.
TASTING NOTES: Refreshing (high acid) white with a round, rich character that has some similarity to Viognier (fresher acidity). Notes of lime skin, gooseberry, kiwifruit, hint of tangerine, plus summer flowers.
SOUNDTRACK: "Love Me Do" by The Beatles!
WINERY NOTES: Born from Fiano Minutolo grapes, an ancient Apulian vine rediscovered, this wine with yellow and greenish tones stands out for its hints of orange blossom and wild flowers and for its notes of citrus and wild herbs.
 *The farm "Tenute Chiaromonte" dates back to the 1820s, immediately after the official recognition of the Primitivo vine. This small family estate is now led by Nicola (4th generation winemaker since the estate became a winery in late 1990s). His wine is highly-awarded every year.
Payment & Security
Your payment information is processed securely. We do not store credit card details nor have access to your credit card information.