Roll over image to zoom in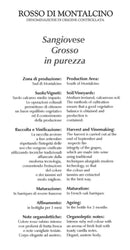 Description
Medium Body, Dry (Sangiovese Grosso). Alc 14.5%.
Made from the Sangiovese Grosso vine, this is a classic Tuscan wine with maturation in small barrique. Delightfully floral nose (almost like sweet flowers) opening up to a layered palate. Juicy, lovely, balanced tannins … pleasure to drink (little too easy to quaff!) ;)
As with all our wines, this is lovingly made at a small-production family estate. Note the cute winery logo - an Etruscan symbol depicting the sun, based on a relic found on the grounds of the farm :)
Payment & Security
Your payment information is processed securely. We do not store credit card details nor have access to your credit card information.