Roll over image to zoom in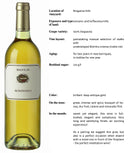 Description
Full Body, Fruity (Vespaiola). 37.5cl (half bottle).
Flagship, limited edition dessert wine from prestigious estate.
96/100 Robert Parker; 95/100 Doctor Wine; 93/100 Wine Enthusiast; 91/100 Wine Spectator.
Sweet but very elegant dessert wine with a complex winemaking process that involves painstaking manual selection of stalks with undeveloped Botritis cinerea a.k.a. noble rot and extended time drying grapes in the 'fruttaio' - a drying system exclusive to Veneto.
2018 Doctor Wine tasting: "The color is quite distinct, an intense, antique golden-copper with orange reflections. The bouquet opens with scents of mold that amazingly enhances the broadness of the aromas. These include pear purée, barley candy, medicinal herbs, panforte spice cake, banana purée, cinnamon, marron glacé, strudel, and red fruit (which is kind of the climax of the mold). The color and aroma recall a wine more from Hungary than Bordeaux. The mouthfeel is very viscous and the sweetness is counterbalanced by a fantastic saline bitterness (nuances of cinchona). The finish has a turbo effect on the dynamism but it is one that on the one hand offers amazing length and on the other eliminates the cadence from the persistence. If we consider just the complexity of the aromas, this wine would have a rating of 98-99/100. The smoky Breganze nuance are still absent and thus suggests letting this age in the bottle for another ten years, even if now it is already incredible."
Payment & Security
Your payment information is processed securely. We do not store credit card details nor have access to your credit card information.