Roll over image to zoom in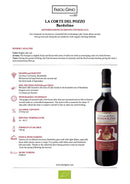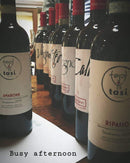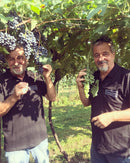 Description
Full Body, Dry (Corvina, Corvinone, Rondinella). DOC. Alc 12.5%.
A great afternoon red, from the shores of Lake Garda - easy drinking, refreshing and quaffable! Packed with bright red fruit (cherry, raspberry, pomegranate) and fresh red roses, with a hint of sweet spices. A lovely 'first red of the night' and will pair well with a wide range of dishes.
This is one of the classic line "La Corte del Pozzo" from acclaimed family estate Fasoli Gino*, established in 1925, who are renowned for their Valpolicella wines like Ripasso and Amarone, as well as other rare appassimento reds.
it is also a special line of wines in support of the local community. In their words: "Since the 1990s, Fasoli Gino as been working with a community of young disadvantaged people in Bardolino. This partnership combines both important work with the social needs of the area with that of protection of the landscape. The community's vineyards are located on a beautiful hill overlooking Lake Garda where ancient olive groves and vineyards are tended for with organic farming methods. Our choice of adding value to an area with respect to all things living, is expressed at its maximum in Bardolino where Fasoli Gino unites caring for the environment with assisting society's needs. The grapes for this wine are cultivate by members of the "Associazione Comunita' dei Giovani", young adults with special needs."
* the parent winery behind Tasi (who make our stunning biodynamic Prosecco).
Payment & Security
Your payment information is processed securely. We do not store credit card details nor have access to your credit card information.