Roll over image to zoom in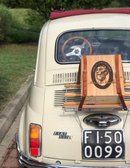 Description
Medium Body, Dry (Nebbiolo). Barolo DOCG. Alc 14.5%.
Famous Italian red from vines located on Roero's famous neighbouring hills of Barolo (in the famous Langhe region), made at prestigious Roero* winery (north of the Tanaro river), by 4th generation winemaker and president of Roero wine consortium!
Nose hits you with redcurrants and violets, but also a touch of leather and truffles. Bright acidity with nice tannic structure. Approachable despite its youth, so try now ... but definitely a bottle worth laying down too (if you have the will power).
2018 REPORTS: 
"The Barolo 2018 vintage has produced some delicious, open-knit and approachable wines due to moderate acidity and ripe tannins, as well as good complexity displayed in the top examples. But mostly, it's just very tasty!" - Aldo Fiordelli, for Decanter, July 2022.
"The 2018 Barolo vintage has not been praised unanimously but I expect less-favourable opinions to be revised upwards soon ... I predict that growing demand for fresh, elegant Barolos will be the reason for 2018's reappraisal... I for one hope that a vintage like 2018, with its elegance and freshness, ...won't be the last of its kind." - Walter Speller, for JancisRobinson.com, July 2022.
"Despite its challenges, the '18 vintage has resulted in charming, perfumed wines with a sense of place... 2018 Barolo is a vintage at the peak of finesse and charm. The wines strike a beautiful balance of perfume, precision and physical presence, with the most silk-like tannins... The transparency of the '18 vintage reveals many of the region's intricacies of terroir and adaptability of our producers' viticultural and winemaking philosophies... The recent string of the '15, '16 and '17 vintages gave us great – even outstanding – wines, but there is a thick-skinned toughness to them. The '18s, on the other hand, are gleaming and open in comparison... There is always [a debate] about when to open extraordinary vintages. I am happy to announce that '18 offers us respite and refreshment from this: it will sit happily in our cellars as a vintage that is fit for drinking, but equally one to lay down for future consumption or investment. Generally, this is not a vintage which needs decades of cellaring to reach its prime; but for the greatest wines (of which there are many), patience will be rewarded. Whether you drink your '18s now, or in years to come, it is impossible not to be seduced by these charming, perfumed wines. No Barolo-lover should be without them." - Davy Żyw, for Berry Bros & Rudd, 2022.
MEET THE WINERY: Click here to read more background on this family-run estate.
From the winery:
"Barolo, like Barbaresco and Roero, is a wine of exception quality, produced by Nebbiolo grapes. It has boasted the Controlled Designation of Origin status since 1980. An ambassador of Italian wine all over the world, the Barolo owes its origins to Camillo Benso, count of Cavour, who towards the mid 1800s began experimenting in the production of a wine which used the "michet", "lampia" and "rosé" sub-varieties of the Nebbiolo vine. This led to the creation of a wine destined to become the piece de resistance of the Savoy dynasty, which was then offered as a gift to all the royal courts in Europe.
There are no compromises when it comes to the "king of wine": a long aging process, first in wood, then in bottles, is the only way to reach excellence and to develop those refined and pungent aromas which distinguish the maturity of Barolo.
The maximum yield allows 80 quintals of grapes per hectare; in addition, rigorous pruning and thinning of the bunches during the summer entail a very limited fruit production. The grapes are picked mid-October, following a slow fermentation and long maceration, during which the wine enriches itself with all the natural elements present in the skin. After racking, the wine is poured into wooden barrels, where it completes its malolactic fermentation and remains for at least 18 months. The Barolo completes its aging in a bottle for another year, before making its debut on the market."
Winery notes:
Colour: intense ruby red, tends towards garnet-red once aged.
Nose: round, strong, spiced, with floral and fruity hints.
Taste: full and elegant taste, well-structured with highly-elegant and well- balanced tannins, and a long and harmonious after-taste.
Food pairings: it goes well with meat ravioli, red meat dishes, boiled meat, braised meats and game. It is ideal with sheep and goat "toma" cheeses swell as aged hard paste cheeses.
LEARN MORE: Follow this link to a podcast by Wine For Normal People that's useful for understanding more about the grape NEBBIOLO!
* To get an idea of how ROERO DOCG differs from BAROLO DOCG watch the Winefolly video HERE, where a Barolo is opened to compare with the PRINTI by Monchiero Carbone. You can also click HERE to find out more about PRINTI and buy a bottle of the various vintages we stock.
Payment & Security
Your payment information is processed securely. We do not store credit card details nor have access to your credit card information.