Roll over image to zoom in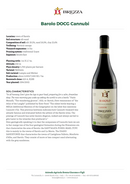 Description
Medium Body, Dry (Nebbiolo). DOCG. Alc 14.5%.
96/100 Falstaff. 95/100 Wine Enthusiast. 5/5 bunches Bibenda. 95/100; 3 Stelle d'Oro (Veronelli). 2/3 Gambero Rosso.
Famous Italian red from prestigious estate; single vineyard (Cannubi).
Wine Enthusiast: "The nose is fruity, elegant and offers fleshiness, a fine richness, subtly as well as a beautiful fruit. It reveals notes fo fleshy and juicy wild strawberries, blueberries and raspberries associated with fine hints of tobacco and liquorice. The palate is fresh, mineral, juicy, elegant, well-balanced, precise and offers straightness, subtly with a beautiful definition. On the palate this wine expresses notes of juicy red cherry and plum with small notes of blueberry and fine touches fo fresh raspberry, rose, chocolate, liquorice and toasted almond. Tannins are elegant. Good length and persistence."
From the winery notes:
"The oldest bottle bearing a MEGA (Additional Mention of the Geographic) on the label that mentions Cannubi 1752. This precious heirloom indicates how Cannubi vineyard was already famous and evaluated before the advent of the Barolo wine. The prestige of Cannubi has never known disgrace, indeed and always served to give luster to the wineries that produced it." Even geologically speaking it is clear the uniqueness of Cannubi; here we are in fact merge two of the four geological formation during the Elvezaiono era that characterize the area of Barolo: the SANT'AGATA FOSSIL MARL (TOV) this is mainly in the towns of Barolo and La Morra. The DIANO SANDSTONES that characterize the towns of Castiglione Falletto, Monforte d'Alba, and Barolo. They consist of more or less compact sand alternating with the grey sandstone.
Production process
During the harvest time (October), the grapes are carefully hand selected in the vineyards and then transported to the winery in small plastic baskets. Once the grapes have arrived to the winery they are immediately de-stemmed and crushed and quickly moved to temperature controlled stainless steel tanks to undergo fermentation. Alcoholic fermentation usually lasts about 7-8 days with temperatures never to exceed 26 °C / 78 °F.
In this phase the maceration is carried out over a prolonged period of time normally for another 10-15 days with an emerged cap with frequent pump overs. After racking the wine it is moved into cement vats to undergo malolactic fermentation with a temperature of 18 °C/ 64 °F , to facilitate this procedure without waiting for the spring warmth.
After the second fermentation, the resulting wine can go into Slavonian oak barrels of medium capacity from 15 to 30 hl. Where it will rest for another two years, after which we will decided the appropriate bottling for this wine. Once bottled will rest another year in a special room with a constant temperature of about 15 °C / 59°F. Exceeded the regulated controls by the law, only about 9,000 bottles which are to be all numbered and then will be placed into the market.
LEARN MORE: Follow this link to a podcast by Wine For Normal People that's useful for understanding more about BAROLO!
MEET THE WINERY: Click here to read more background on this family-run estate.
Payment & Security
Your payment information is processed securely. We do not store credit card details nor have access to your credit card information.