Roll over image to zoom in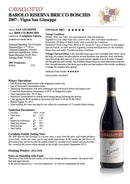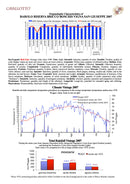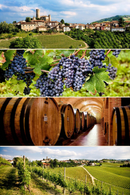 Description
Medium Body, Dry (Nebbiolo).
Famous Italian red from prestigious estate*; single vineyard (San Giuseppe).
*Cavallotto is one of the most respected 'traditional' Barolo producers, noted for "turning out the purest expressions of Nebbiolo since 1948" according to Kerin O'Keefe (Piemonte wine expert and author of "Barolo & Barbaresco").
NB: 2007 was a "classic" year in Piedmont rated 95 of 100 (source: WineSpectator.com/vintagecharts.
WINERY NOTES: "Source Vines/Vineyards: MGA Bricco Boschis, parcel of "Vigna San Giuseppe" – Nebbiolo for Barolo 100%. Characteristics of the wine: Vinification: fermented with indigenous yeasts, macerated with submerged cap for 20-35 days. Ageing: Traditional in Slavonian Oak Casks for 4-5 years. Bottle Ageing: 12 months before release into the market. Organoleptic Characteristics: From this cru come wines of great structure but with elegance and complexity. The initial perfumes are fruity and followed by floral aspects, then spices, all open and intense. Generally excellent cellaring potential. Gastronomic Accompaniment: This wine finds its best matches at the table, with first courses of prosciutto, salami, Alba beef tartare and vitello tonnato. The wine is best with second courses of red meat in general, but also grilled fish or white meats, or with hard and aged cheeses. Desserts with dark chocolate are also a good match, or it can be enjoyed as a "vino da meditazione" (a wine for meditiation) by iteslf."
Limited stock - maximum two bottles per customer (until larger stock available).
* this product is not included on the "eligible for promotion/discount" list *
LEARN MORE: Follow this link to a podcast by Wine For Normal People that's useful for understanding more about BAROLO!
Payment & Security
Your payment information is processed securely. We do not store credit card details nor have access to your credit card information.