Roll over image to zoom in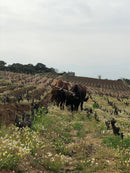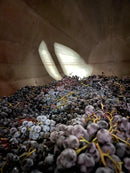 Description
Full Body, Dry (Cannonau*, Bovale**, Monica). IGT Isola dei Nuraghi. Alc 15.5%.
An exciting new wine from the Sardinian vineyards of Bentu Luna - sister winery of prestigious Lombardy estate Castello Di Cigognola.
92/100 James Suckling; 92/100 Wine Enthusiast; 17.5/20 Jancis Robinson;  Gold medal at Wow The Italian Wine Competition.
A blend of the key Sardinian grapes, from 117 year old vines, in an important wine zone right in the centre of the island, then produced at the winery estate on the central West coast (in Neoneli in the province of Oristano).
*Cannonau, known elsewhere as Grenache or Garnacha. **Bovale Sardo, a.k.a. Bovaleddu (known elsewhere as Graciano).
"35% Bovale Sardo, 35% Cannonau, 30% Monica from a vineyard of 115 years old. Spontaneous fermentation in 20-hl concrete tanks. Total skin maceration three weeks. MLF in oak barriques of second passage and aged in the same casks for eight months. SCORE = 17.5 Lustrous crimson. Huge depth and intensity on the nose. Lifted raspberry and layers and layers of damson. Sweetly perfumed. Amazing balance of succulent fruit that is still holding back a little and with bags of sandy tannins. Intense, long and yet not heavy. Minerally, saline notes on the finish. (WS)" - Jancis Robsinon.
WINERY NOTES:
Be luna, a Sardinian red made from 40% Sardinian Bovale, 35% from Cannonau and the remaining 25% from Monica. With a very small production, of about 1200 bottles, from 117-year-old vines, it stands out for its complex and refined nose, with notes of cherry, cinchona, tobacco and Mediterranean scrub. In the mouth it reveals a great finesse, embellished with a balsamic note, which evokes an ancient Sardinia.
Vinification : After a slow and careful destemming of the bunch, fermentation begins with spontaneous foot in 20 Hl cement tanks. Here the whole berries alternated with whole clusters begin their fermentation process. Process that lasts about 3 weeks during which light manual punching takes place after 2 weeks.
Aging : the wine is aged for 8 months in second passage oak barriques. During this period he carries out the MLF and light batonnage are carried out.
No. of bottles produced : 1,300
LEARN MORE: Follow this link to a podcast by Wine For Normal People that's useful for understanding more about the SARDINIA region (important for grapes like Vermentino, Monica, Cannonau, Bovale)!
Finally, an excerpt from an article by Walter Speller for JancisRobinson.com says "Sardinia has become a hotbed of activity, especially the high plain of Mandrolisai, where many old and very old vines of indigenous varieties can be found. Only now is the full potential of this area being recognised with the recent and considerable investment made by the Moratti family, responsible for some fine Oltrepò Pavese sparkling wine. A brand-new cellar has been built for their Bentu Luna estate on Sardinia. Star oenologist Federico Staderini is involved in this new enterprise as well as with their Oltrepò Pavese sparklers. The first vintages of the Bentu Luna wines ... are truly captivating and amazing expressions of Cannonau especially – the best I have come across so far in Italy. Some of these elegant, complex and, I expect, long-lived wines come in at a whopping 15.5%, but you wouldn't know it."
Payment & Security
Your payment information is processed securely. We do not store credit card details nor have access to your credit card information.