Roll over image to zoom in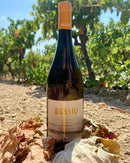 Description
Medium Body, Dry (Nasco). DOC. Alc 14.5%.
Nasco di Cagliari DOC. A very rare wine, only found in specific area of Sardinia (from Jancis Robinson: "ancient light-berried vine making soft white wines from about 140 ha/346 acres around Cagliari").
TASTING NOTES: Bright colour and bright acid, with pronounced aromas of herbs, stone fruit and honeysuckle. Tantalising musky (germanium). Slightly spicy note (white pepper?) and hint of lees. Finish has a classic 'almond skin' savouriness. Reminiscent of Albarino and Gruner.
WINERY NOTES: "Nasco is one of the typical vines of southern Sardinia. This is a wine characterized by a long aging and by the peculiarities of the grapes that make it enveloping, but also extremely delicate. For this, remember that special morning sensation of the air, when you just went out into the vineyard, at sunrise. By which, the name is Bessiu, which in Sardinian language means: "be out"."
WINEMAKING: Soft pressing and natural cold decanting. Slow fermentation in steel tanks on a controlled temperature to enhance the original characteristics of the terroir. Ends with 8 months of refinement in steel tanks and on its fine lees.
Payment & Security
Your payment information is processed securely. We do not store credit card details nor have access to your credit card information.