Roll over image to zoom in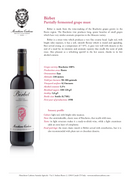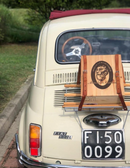 Description
Medium Body, Fruity (Brachetto). Alc 5.5%.
Lightly frizzante, sweet red wine made  by 4th generation winemaker and president of Roero wine consortium!
MEET THE WINERY: Click here to read more background on this family-run estate.
An unusual and refreshing tipple, perfect as an aperitif. Piedmont's answer to Lambrusco?
TASTING NOTES: Fresh and fruity nose (reminiscent of Moscato, but "red grapey" notes) with some candyfloss sweetness. Lovely party wine!
From the winery:
"Birbet is made by the wine-making of the Brachetto grapes grown in the Roero.
The Brachetto vine produces long, sparse bunches of small grapes which have very similar aromatic properties to the Moscato variety. Birbet is a sweet wine which produces a very fine creamy head. Deep red going on ruby, it has a soft, smooth flavour which is round and appealing. Best served young, its intense aromatic qualities make it a great dessert wine."
Winery notes:
Colour: deep red, with bright ruby nuances. Nose: the unmistakeable, classic nose of brachetto, with an intoxicating aromatic quality that recalls wild roses. Taste: Its light structure make it a ready-to-drink wine, while a light creaminess adds an extra layer of complexity.

Food pairings: the most classic of matches sees Birbèt served with strawberries, but it is also recommended with plum tart.
GRAPE GEEK: The Brachetto vine has similar aromatic properties to the Moscato variety.
Payment & Security
Your payment information is processed securely. We do not store credit card details nor have access to your credit card information.