Roll over image to zoom in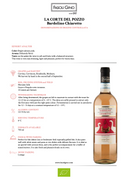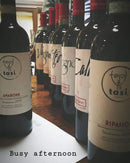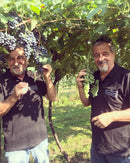 Description
Medium Body, Dry (Corvina, Corvinone, Rondinella, Molinara). DOC. Alc 12.5%.
A great afternoon rose, from the shores of Lake Garda - easy drinking, refreshing and quaffable! Notes of jasmine, red apple, summer berries, hint of candied fruit too. Lively acidity. Try with smoked salmon, simple pizza, or how about a Thai salad.
Watch a video from winemaker Natalino Fasoli about this charming wine (in Italian but English subtitles): https://youtu.be/H1FD91AD8ys.
This is one of the classic line "La Corte del Pozzo" from acclaimed family estate Fasoli Gino*, established in 1925, who are renowned for their Valpolicella wines like Ripasso and Amarone, as well as other rare appassimento reds.
From the winery:
WINEMAKING TECHNIQUE: After being destemmed, the grapes are left to macerate in contact with the must for 12 – 15 hrs at a temperature of 8 – 10° C. The skins are softly pressed to extract only the first juice with just the right pink color. Fermentation is carried out in autoclaves for 12 – 15 days at a constant temperature of 12 – 15°C.
TASTING NOTES: Bright salmon pink in color with delicately floral aromas, on the palate the wine is soft and fruity with a balanced structure. This wine is very easy drinking, light and pleasant, perfect for warm days.
PAIRINGS: Ideal as an aperitif or to match with sea or lake fish, also suitable for white meats and light first courses.
It is also a special line of wines in support of the local community. In their words: "Since the 1990s, Fasoli Gino has been working with a community of young disadvantaged people in Bardolino. This partnership combines both important work with the social needs of the area with that of protection of the landscape. The community's vineyards are located on a beautiful hill overlooking Lake Garda where ancient olive groves and vineyards are tended for with organic farming methods. Our choice of adding value to an area with respect to all things living, is expressed at its maximum in Bardolino where Fasoli Gino unites caring for the environment with assisting society's needs. The grapes for this wine are cultivate by members of the "Associazione Comunita' dei Giovani", young adults with special needs."
* the parent winery behind Tasi (who make our stunning biodynamic Prosecco).
Payment & Security
Your payment information is processed securely. We do not store credit card details nor have access to your credit card information.