Roll over image to zoom in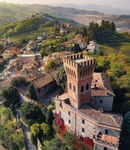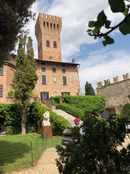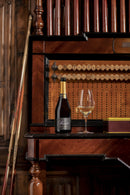 Description
Medium Body, Dry (Pinot Nero). DOCG Oltrepo' Pavese Metodo Classico Pas Dose. Alc 12.%.
Classic method (Champagne-style) sparkling made without dosage, from historic estate, under the guidance of respected oenologist Federico Staderini. This is not only an important wine style but the most important grape for this specific area of west Lombardy (see wine expert's article below). Fine perlage; notes of pastry and ripe fruit; very elegant; long and persistent finish.
5/5 Bibenda (Italian Sommelier Foundation);  Gold medal at the International Wine Challenge; Gold medal at The Wine Hunter Award 2021; 17+/20 Jancis Robinson; 97/100 Doctor Wine; 93/100 Wine Enthusiast; 90/99 Luca Maroni.
From the winery:
"From history to the palate. The ripening of the grapes guides towards a fine perlage. The elegance is deep. The vines we reserve for this wine grow on the North-West facing side of the Cigognola hill. This deliberate placement allows them to soak in enough warm evening sunlight to fully 
develop the elegant, round taste of ripeness complimented by sparkling freshness and 
fine perlage. DOCG Oltrepo' Pavese Metodo Classico Pinot Nero; White sparkling Classic Method Pas Dosé; 100% Pinot NoirBlanc de Noir; Pas Dosé; No sugar added after disgorgement; Aged 72 months on the lees."
MEET THE WINERY: Click here to read more background on this family-run estate.
NB: Limited stock - maximum four bottles per customer (until larger stock available).
Finally, an excerpt from an article by Walter Speller for JancisRobinson.com, written in summer 2021, says "I have rarely come across an interesting sparkling wine from [Lombardy's Oltrepò Pavese area] ... and when I did I filed the experience under 'exception proving the rule'. Therefore I was quite thrown off balance when I tasted the metodo classico wines from Castello di Cigognola ... Owned by Moratti, a family of entrepreneurs, the team at the property have set themselves the lofty goal of challenging not Franciacorta but Champagne. Their secret weapon is north-facing, mature vineyards of Pinot Noir at elevations of at least 350 m (1,150 ft). Fully ripe grapes are what they are after, something which Oltrepò Pavese routinely delivers year after year, making adding sugar at any stage of the winemaking process unnecessary. The Morattis have taken on board star oenologist Federico Staderini, who among others is responsible for the Poggio di Sotto Brunellos that are extremely elegant even though they are grown in one of Montalcino's warmer areas. And that seems to be the Staderini signature: Oltrepò Pavese can be very warm, but the first releases of Castello di Cigognola do not reflect this in the least. What they show, dare I say it, is that Oltrepò Pavese can be a very good place to produce top Pinot Noirs and not just in sparkling form."
Payment & Security
Your payment information is processed securely. We do not store credit card details nor have access to your credit card information.