Roll over image to zoom in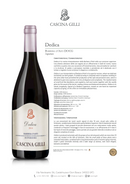 Description
Medium Body, Fruity (Barbera). DOCG. Alc 14.5%.
Important grape for Italy, especially Piedmont. One of the widest planted and most versatile. The Barbera vines grow on hillside vineyards east of Turin (Colline Torinesi) in the area of Castelnuovo Don Bosco.
90 points - Wine Enthusiast.
As a Barbera D'Asti DOCG Superiore, the character is brighter and more fruit-forward in comparison to its cousin from Alba with added complexity (compared to a non Superiore) thanks to more specific grape selection.
A bright, fruity and very enjoyable wine. :) On the nose, it hits you with ripe blueberry, plum and dark flowers (violets) and vanilla, plus a hint of black pepper and liquorice. The palate is rich and ripe too, with nice structure. Tannins are high but well integrated and the acidity balances the warmth of the alcohol. Possibly the wine equivalent of a dark fruit pie or cobbler with a drizzle of cream. Tasting in Nov 2022 alongside an older vintage (2017) it's lovely to see the likely progression of this wine.
WINERY NOTES: 
Dèdica is our interpretation of Barbera d'Asti in its superior version, whom we dedicate exclusively our best grapes. A careful pruning in vineyards and a scrupulous working in the wine cellar have permitted the production of this soft and persistent wine, which is destined to give new surprises in terms of elegance and complexity. The marked tastes of small fruit like blackberry and raspberry melt and evolve together with the vanilla given by the wood of the barrel, making intense and balanced sensations. Dèdica in its whole complexity, typical of a Barbera Superiore, reveals on one hand an important capacity of aging, on the other an immediate pleasantness.
VINIFICATION: 
Dédica is produced exclusively with the grapes of our old vineyards which are more than 70 years old, located on the hills of Schierano. Only the small yields of these plants and a extended maturation, combined with a long fermentation and a 9 months aging in barrels, made a great chromatic intensity and a wide range of aromas, even more elegant, balsamic and defined.
LEARN MORE: Follow this link to a podcast by Wine For Normal People that's useful for understanding more about the grape BARBERA!
Payment & Security
Your payment information is processed securely. We do not store credit card details nor have access to your credit card information.