Roll over image to zoom in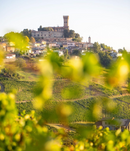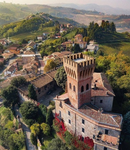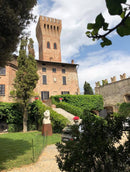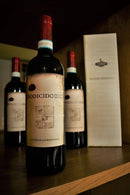 Description
Medium Body, Fruity (Barbera). DOC Oltrepo Pavese Barbera. Alc 14%.
Psst! The name refers to the year the castle was inaugurated (1212).
Great introduction to this juicy local grape (cherry notes), from historic castle estate with prestigious heritage of Barbera wines.
Silver medal at Wow The Italian Wine Competition.
* NEW LABEL DESIGN *
TASTING NOTES: Fruity nose with hints of cherry, plum, forest fruits and spices. Elegant and balanced palate, with a distinct personality.
CELLAR NOTES: Vinification involves 12-15 days maceration, alcoholic fermentation in stainless steel, malolactic fermentation in large French oak barrels and then 8 months refinement in the barrel followed by a further 8 months in the bottle.
More from the winery:
"A charming, fragrant, full-bodied Barbera that embraces the palate with its deep notes of fully ripe grapes and crispness. Ruby red hues and fruity scent sustain the flavour's elegant firmness. Doc Oltrepo' Pavese Barbera; 100% Barbera."
LEARN MORE: Follow this link to a podcast by Wine For Normal People that's useful for understanding more about the grape BARBERA!
MEET THE WINERY: Click here to read more background on this family-run estate.
Finally, an excerpt from an article by Walter Speller for JancisRobinson.com, written in summer 2021, says "I have rarely come across an interesting sparkling wine from [Lombardy's Oltrepò Pavese area] ... and when I did I filed the experience under 'exception proving the rule'. Therefore I was quite thrown off balance when I tasted the metodo classico wines from Castello di Cigognola ... Owned by Moratti, a family of entrepreneurs, the team at the property have set themselves the lofty goal of challenging not Franciacorta but Champagne. Their secret weapon is north-facing, mature vineyards of Pinot Noir at elevations of at least 350 m (1,150 ft). Fully ripe grapes are what they are after, something which Oltrepò Pavese routinely delivers year after year, making adding sugar at any stage of the winemaking process unnecessary. The Morattis have taken on board star oenologist Federico Staderini, who among others is responsible for the Poggio di Sotto Brunellos that are extremely elegant even though they are grown in one of Montalcino's warmer areas. And that seems to be the Staderini signature: Oltrepò Pavese can be very warm, but the first releases of Castello di Cigognola do not reflect this in the least. What they show, dare I say it, is that Oltrepò Pavese can be a very good place to produce top Pinot Noirs and not just in sparkling form."
Payment & Security
Your payment information is processed securely. We do not store credit card details nor have access to your credit card information.