Roll over image to zoom in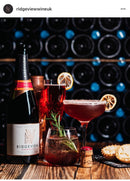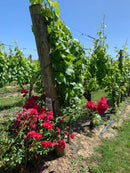 Description
Medium Body, Dry (Chardonnay, Pinot Noir, Pinot Meunier).
Champagne-style sparkling rose from highly-awarded Sussex estate and served to Barack Obama by Her Majesty the Queen at Buckingham Palace State Banquet. Pair with lobster, or summer pudding ... or simply sip poolside in the sunshine!
WINERY NOTES: Ridgeview's Fitzrovia Rose is a delicate salmon colour with an abundance of fine bubbles. Chardonnay brings freshness and finesse, whilst the Pinots add the classic red fruits for which England is so acclaimed. A raspberry and redcurrant nose carries through to a fresh fruit-driven palate.
Watch the winery's tasting notes video: https://youtu.be/r7zJ3lyAPY8.
SILVER (93pts) IWSC 2020

SILVER Decanter World Wine Awards 2018
---
WHY RIDGEVIEW?

We work closely with Italian wineries that we know well, but we are always looking to expand our portfolio to include other estates, from other countries, that fit our philosophy (family-run, small-production wineries; focus on special grapes/wines; passion projects). It's important to us that we meet the winery team, to get to know their stories.
2020 has been a challenge, given limits on travel to visit the vineyards directly. However, we feel excited to share wines from a Sussex estate that we visited in 2018, which is located a 30-minute drive inland from the coastal towns where both Chris and I grew up!
ABOUT RIDGEVIEW:
Responsible for putting English sparkling wines on the global stage when it was the first sparkling wine produced outside of Champagne to take the top spot at Decanter (2010), Ridgeview has been on a roll ever since. Throughout its 25-year history, Ridgeview has done more than any other to change minds and hearts on the perception of English sparkling wine and pave the way for global recognition of the now thriving English wine industry.
Naturally, many consumers want to taste and experience wines that have been critically acclaimed. Most people, however, are more compelled by how an experience makes them feel and the stories behind those feelings. In both regards, Ridgeview is peerless. As the favoured drink of her Majesty Queen Elizabeth II, could there be a more amazing ambassador? And if feeling like royalty and sipping on the same bubbles as the queen isn't exciting enough, this is the same drink famously served to both Barack Obama and Xi Jing Ping during state banquets at Buckingham palace. Oh yes, and it's the official and exclusive sparkling wine of Number 10 Downing Street.
This truly is England in a glass.
---
More about ESW:
Regarding the growing reputation of ESW, wine critic
Oz Clarke
believes "
the grapes from English vineyards could become the best sparkling wines in the world ... It should be seen as the coolest wine
" and his latest book, entitled
Oz Clarke English Wine
is a great insight into this growing wine region!
In fact, everyone's talking about ESW:
"The soils are hospitable, the climate is ripe, the vineyards are expanding and the wines keep getting better. English sparklers are a novelty no more." - NY Times
"Geological mapping has proved that the chalky grounds of the South Downs are identical to that of the best vineyards in Champagne." - Tatler
"English wine is growing in popularity and is increasingly recognised as a premium wine-producing region, with more than 450 wineries ... English sparkling wine specifically has been highly praised for its quality, collecting three Platinum and six Gold medals in the 2018 Decanter World Wine Awards." - Decanter
Payment & Security
Your payment information is processed securely. We do not store credit card details nor have access to your credit card information.