Roll over image to zoom in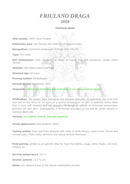 Description
Medium Body, Dry (Friulano*).
Classic Friuli wine from the Miklus family winery.
TASTING NOTES: pale golden yellow; orange blossom and lime skins on the nose; some warm citrus (tangerine) and lovely minerality on the palate; very clean and refreshing expression. Try this if you enjoy a Vermentino or 'typical' Pinot Grigio (Draga's PG are actually very unique styles) or similar wines. Update: as it's aged longer in bottle the aromas have developed - noticing more stone fruit and underripe tropical notes; more lees (bready notes).
* grape can be found under pseudonym Sauvignonasse, or sometimes Sauvignon Vert (not same as California vine, which is actually a Muscadelle). It was also mistaken for Sauvignon Blanc in Chile.
Winery notes: wine made without herbicides, low sulphite content, low environmental impact.
Classic range:
No use of herbicide
Organic agriculture
Working with MOON

phases
Low sulphite content
Fermentations/aging in

stainless steel

barrels
Payment & Security
Your payment information is processed securely. We do not store credit card details nor have access to your credit card information.