Roll over image to zoom in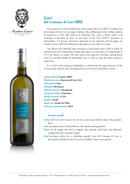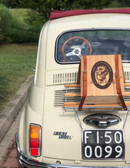 Description
Light-Medium Body, Dry (Cortese). DOCG. Alc 12.5%.
Famous Italian white from vines located in the commune of Gavi (in south Piedmont), made at prestigious Roero* winery (north of the Tanaro river), by 4th generation winemaker and president of Roero wine consortium!
MEET THE WINERY: Click here to read more background on this family-run estate.
From the winery:
"The idea of producing Gavi di Gavi was born in 2009 in collaboration with a classmate of Francesco Monchiero from the Enological School of Alba. He has a family winery and vineyards in Rovereto di Gavi, in the Province of Alessandria, and he runs a 6-hectare vineyard dedicated to the the production of our Gavi. Francesco instead deals with the vinification of the grapes and the subsequent aging of the wine in our own cellar. From the 2010 vintage, Gavi di Gavi has come to form part of the range of wines of Monchiero Carbone.
Vinification: The flower wine obtained after squeezing in a pneumatic press is left to age of selected yeasts for fermentation, which takes place in steel tanks at a temperature of 15c for about 2-3 weeks. Aging: The wine is aged in tanks for four months, during which it is thoroughly stirred by lees stirring every 15 days for the yeast to remain in suspension."
Winery notes:
Colour: The Gavi di Gavi has a pale straw yellow color with greenish hues. Aroma: Persistent notes of white flowers, lily, almond and grapefruit. Taste: On the palate the wine is elegant and smooth, with fresh and balanced components and a pleasant acidity.
Pairings: Perfect for a refreshing aperitif, Gavi di Gavi is particularly suitable for hors d'oeuvres, shellfish, risotto, seafood but also white meats and poultry.
Payment & Security
Your payment information is processed securely. We do not store credit card details nor have access to your credit card information.