Roll over image to zoom in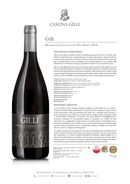 Description
Medium Body, Fruity (Malvasia di Schierano, Malvasia Nera Lunga). DOC. Alc 5.5%.
Lightly frizzante, slightly sweet red wine ... an unusual and refreshing tipple, perfect as an aperitif. Piedmont's answer to Lambrusco?
WINERY NOTES: Gilli (CDB) is a mildly effervescent sweet red wine with low alcohol content (5.5%) made from one of the most appealing aromatic red grapes, the Malvasia di Schierano. It is characterised by an unusual marriage of freshness and aromatic complexity. Wild red berry fruit is evident on the nose, along with fascinating hints of blossoms, particularly wisteria and iris. Served well chilled (6-8°C), it is ideal with different types of desserts as well as with fresh fruit and petits fours.
VINIFICATION: The grapes are softly pressed, the skins and the must are left together for a brief fermentation period to extract the colour and to obtain some degrees of alcohol. The must is preserved at low temperature so to keep its natural freshness and perfumes. Before bottling it, it is afterwards re-fermented in an autoclave, with the help of selected yeasts until the alcohol content reaches 5,5° and the must assumes its typical vivacity. Before bottling it, the wine is micro-filtered to obtain optimal conservation and stop any further fermentation.
Payment & Security
Your payment information is processed securely. We do not store credit card details nor have access to your credit card information.