Roll over image to zoom in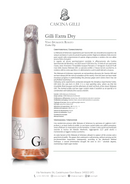 Description
Light Body, Dry (Malvasia di Schierano). Alc 12.5%.
Sparkling Rose wine from our new winery (2021 addition to the portfolio) - similar to a "pink Prosecco" but with a more savoury edge - reminiscent of a cocktail made with Italian bitters (like Amaro Citrange).
WINERY NOTES: Malvasia di Schierano represents an extraordinary discovery for Cascina Gilli and we have always felt the role of custodians of this variety. Over the years we have made enormous progress in understanding this precious grape and it seems that it has not yet finished surprising us. Following some experiments conducted alongside the Bonafus Expermimental Cellar, Gilli Extra Dry was born in 2019. It is a rosé sparkling wine, where we find the irresistible floral bouquet and the aftertaste of small red fruits of the classic Malvasia Gilli. The marked acidity and low sugar content make it excellent as an aperitif or in combination with delicate first courses and fish.
VINIFICATION: An early harvest of the Malvasia di Schierano allowed to capture all the aromas and a good level of acidity. The grapes that underwent a soft pressing, without carrying out the pre-fermentative maceration. Subsequently, according to the Martinotti Method technique (aka tank method or Charmat method, as used for Prosecco), a second fermentation brought the wine to 12.5° alcoholic degrees, maintaining a slight sugar residue.
Payment & Security
Your payment information is processed securely. We do not store credit card details nor have access to your credit card information.