Roll over image to zoom in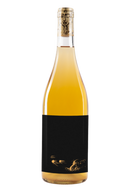 Description
Medium Body, Dry (Garganega). Alc 11%.
Exciting new "skin contact" a.k.a. 'orange wine' from biodynamic estate in Veneto.

TASTING NOTES: A fresh floral, fruity nose (big hit of tangerine and orange blossom), with a hint of caramel. It opens up into a soft, easy-drinking wine that will be a great choice for wine lovers starting to explore skin contact wine. A light, fresh approach to orange wine. Pair this with Thai dishes!!
FYI: In a local Veneto dialect 'tasi' means "hush" and according to the winemakers it is a "call to shut up, to everybody who takes themselves too seriously" so we suggest you slow down, hush and take a moment to enjoy a sip of healthy vino by TASI.
Payment & Security
Your payment information is processed securely. We do not store credit card details nor have access to your credit card information.