Roll over image to zoom in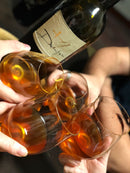 Description
ORANGE WINE (made from WHITE grapes vinified like a RED wine - with skin contact)
Full Body, Fruity (Chardonnay, Friuilano*, Malvasia Istriana). IGT. 14.5% Alc.
Stunning blend, from Friuli's passionate philosopher-winemaker.
Awards include 5/5 bunches Bibenda; 95/100 Doctor Wine; 88/100 Vinous (Antonio Galloni).

* grape can be found under pseudonym Sauvignonasse, or sometimes Sauvignon Vert (not same as California vine, which is actually a Muscadelle). It was also mistaken for Sauvignon Blanc in Chile.
WINERY NOTES: Symphony entitled Drop, composed by three artists: Chardonnay, Nekaj, Malvasia Istriana. Each of them donates to the wine its characteristic, contributing to the harmony and balance from the nose to the mouth. The marked olfactory aromaticity of Friulano gives to the mouth the aromatic continuity of the Malvasia, leaving a wide and long final by the round and sapid Chardonnay.
VINIFICATION: The maceration begins in big barrels of oak for 60 to 90 days. After finishing the fermentation, it is aged in 20 or 30 hl barrels for 3 years and rests for 1 year in the bottle.
Variety: Chardonnay 40% / Malvasia Istriana 30% / Nekaj (Friulano) 30%
Soil type: Ponca – Opoka Sandstone/Marl
Vineyards altitude: 110/140 m a.s.l.
Vineyards exposure: south, south-west
Resa per ettaro: 40 q/Ha
From the vineyards: Gradiscutta since 1991, Monte Calvario since 2003, Piedimonte since 2008, San Floriano since 1993
The presence of sediment is essential to keep the wine alive and to conserve it.
NB: Limited stock - maximum four bottles per customer (until larger stock available).
* this product is not included on the "eligible for promotion/discount" list *
Payment & Security
Your payment information is processed securely. We do not store credit card details nor have access to your credit card information.