Roll over image to zoom in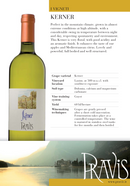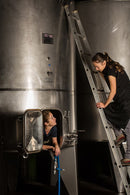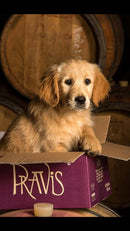 Description
Medium Body, Dry (Kerner*). IGT. Alc 13.5%.
Refreshing mountain white from a small family estate. Grapes grown in "Le Biolche" just to the south of (looking up at) the Castel Madruzzo.
TASTING NOTES: Fresh Trentino white with soft yet cleansing acidity and a round palate. Citrus, stone fruit and floral notes (lime zest, honeydew melon, grapefruit, nectarine, yellow flowers) and classic Dolomite minerality! On second tasting, more notes = passionfruit, peach, apricot but also the typical Kerner notes that remind you of Riesling (lime, lime skin, wax)!
* Riesling and Schiava cross**, designed to be suitable for cooler climates. If you like dry Riesling, you'll love this :)
** Looking for more grape info? Nearly a century ago, in 1929, agronomist August Herod bred the KERNER variety by crossing a RED popular in mountain vineyards called Schiava grossa (aka Vernatsch or Trollinger) with the international WHITE Riesling. (Cross-breed varieties were essential to making viticulture more robust, to counter the challenges of vine disease - specifically the catastrophic Phylloxera infestation that damaged so many of Europe's vineyards in the late 1800s and early 1900s. Read more about this important period in viticultural history at Wine Folly here.)
The Kerner vine is hardy and versatile. It can withstand very cold temperatures (down to -10 Celsius), it grows in different altitudes (up to 800 or 900 meters above sea level) and it does well in different types of soil. This makes it an ideal choice for many vineyards in north Italy. In the South Tyrol part of Trentino-South Tyrol aka Trentino-Alto Adige it has flourished since the early 1970s (it received varietal protection in 1969) and in the early 1990s Kerner wine was awarded the status of DOC. Kerner wine is typically fresh and lively, with hints of grapefruit and apple.
What's in a name? Herold named the new variety after Justinus Kerner, a physician and poet whose works included songs and poetry on wine.
Payment & Security
Your payment information is processed securely. We do not store credit card details nor have access to your credit card information.