Roll over image to zoom in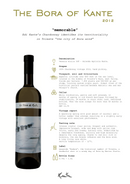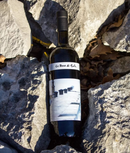 Description
Medium Body, Dry (Chardonnay). Alc 12.5%.
Beautifully aged, complex white from Friuli's poet-painter-winemaker. Kante's premium line of wine, from a special selection of hand harvested grapes.
Tasting summer 2023: a great wine for ageing but drinking beautifully now … opens up in the glass with a good swirl. Bright acidity - so lively, while also being complex and layered! Deliciously saline notes alongside lemon, underripe pineapple, vanilla and a hint of butterscotch. Plus, the classic "licking wet rocks" minerality springs to mind :) Long finish…
Chardonnay IGT Venezia Giulia:
- Vineyards planted at over 800 feet above sea level
- Aged for 12 months in old barrels; then 24 months in stainless steel tank; then 3 years in bottle.
- Bottle unfiltered
A NOTE ON THE WINERY:
- At the Kante vineyards the grapes are harvested by hand.
- In the cellar, wines are neither fined nor filtered and no new oak is used (barrels are up to 18 years old). This is Edi's style and philosophy of winemaking.
Payment & Security
Your payment information is processed securely. We do not store credit card details nor have access to your credit card information.