Roll over image to zoom in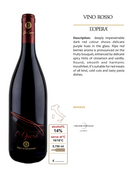 Description
Full Body, Fruity (Sangiovese, Primitivo, Nero d'Avola, Syrah). Alc 14%.
98 pts Luca Maroni; 99/99 "Best Producer 2020" Luca Maroni.
Great introduction to four key grape varieties. A perfect pizza or pasta pairing!
NB: This wine can sometimes be found with slightly different spellings/labels, for example on Vivino. It can also be found listed under the LINE of Duca Di Saragnano*, as opposed to the ESTATE of Barbanera. See the link below to read more on this wine:
- VIVINO link "L'Opera 2020"
* What's in a name? In the case of the Barbanera family's winery they chose to pay respect to a great legend whose descendant became a close friend of Luigi Barbanera (father of Marco and Paolo who now run the estate). The original Duca di Saragnano came from Campania but fled north to Tuscany, around the 10th Century, as foreign invaders took over much of southern Italy. The Duca di Saragnano was remembered as "amongst the bravest and noblest local defenders" of the Italian land, who "fought valiantly" against the aggressors. Centuries later the inheritor of the title 'Duca di Saragnano' met the Barbanera family, who had started out in 1938 with home-produced olive oil, cheeses, cured meat and wine, and granted the use of the prestigious name as "a token of his esteem".
Payment & Security
Your payment information is processed securely. We do not store credit card details nor have access to your credit card information.