Roll over image to zoom in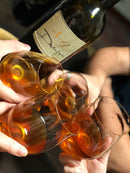 Description
ORANGE WINE (made from WHITE grapes vinified like a RED wine - with skin contact)
Full Body, Dry (Malvasia). IGT 15% Alc.
Stunning 'introduction' to orange wine, from Friuli's passionate philosopher-winemaker.
WINERY NOTES: By getting the glass near to the nose, we discover the shy characteristic of the semi aromatic Malvasia Istriana. All of her beauty gets released from the first until the last sip in a succession of spicy and herbal aromas as green pepper and tomato leaf.
VINIFICATION: The maceration begins in big barrels of oak for 60 to 90 days. After finishing the fermentation, it is aged in 20 or 30 hl barrels for 3 years and rests for 1 year in the bottle.
The presence of sediment is essential to keep the wine alive and to conserve it.
Payment & Security
Your payment information is processed securely. We do not store credit card details nor have access to your credit card information.