Roll over image to zoom in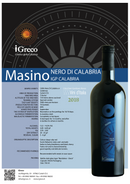 Description
Full Body, Fruity (Calabrese*). IGT/IGP. Alc 14%.
Rich and powerful red, with hints of spice. Perfect with BBQ meat or a roast.
TASTING NOTES: Intense, complex nose with notes of black fruit, berry and brambles, plus a hint of pepper and some sweet spices. Medium/high acidity and grippy tannins. Long finish.
*Calabrese, also known in Calabria as Nero di Calabria - perhaps better known internationally as Nero d'Avola the popular black grape of Sicily.
WINERY NOTES: "I'm the little son. The real stubborn Calabrian. I'm young and strong. My color is ruby red and my flavor is like the black cherries and blackberries. Everyone love me and for this reason I'm been rewarded. My favorite friend is the meat in sweet and sour sauce." Colour: deep ruby red. Scent: Balsamic notes and aromatic herbs to fruity blackberry and black cherry. Taste: rich and is characterized by good sapidity and delicate tannins.
Payment & Security
Your payment information is processed securely. We do not store credit card details nor have access to your credit card information.