Roll over image to zoom in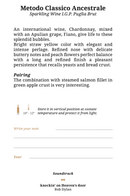 Description
Medium Body, Dry (Chardonnay, Fiano). Spumante IGP Puglia Alc. 12.5%.
Sparkling wine, made in the traditional "Champagne" method (Metodo Classico Ancestrale) from highly-awarded Apulian winemaker* specialising in south Italy's most important local grapes.
TASTING NOTES: A deep, rich wine with delicate yet persistent perlage; fresh notes of yellow apple, peach; long finish; will stand up well to rich seafood dishes.
NB: Limited stock - maximum two bottles per customer (until larger stock available).
WINERY NOTES: An international grape, Chardonnay, accompanied by an ancient Apulian grape found, the Fiano. It has a straw yellow colour and notes of peach blossoms.
 *The farm "Tenute Chiaromonte" dates back to the 1820s, immediately after the official recognition of the Primitivo vine. This small family estate is now led by Nicola (4th generation winemaker since the estate became a winery in late 1990s). His wine is highly-awarded every year.
Payment & Security
Your payment information is processed securely. We do not store credit card details nor have access to your credit card information.