Roll over image to zoom in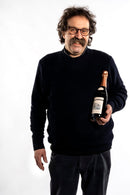 Description
Medium Body, Dry (Pinot Meunier). Alc 12.5%.
The NEW Champagne-style sparkling rose (extra brut; rose de noirs) from innovative winemaking duo in the stunning Dolomite mountains! Crisp, dry and elegant. Notes of red apple, wild berries and a hint of pastry (apple turnovers?).
Very limited production - only 2,500 bottles made and a small, exclusive allocation secured here in Singapore by Once Upon A Vine!
GRAPE GEEK:
According to Wikipedia, "Pinot Meunier (aka Schwarzriesling) is a variety of black wine grape most noted for being one of the three main varieties used in the production of Champagne (the other two are the black variety Pinot noir and the white Chardonnay). Until recently, producers in Champagne generally did not acknowledge Pinot Meunier, preferring to emphasise the use of the other noble varieties, but now Pinot Meunier is gaining recognition for the body and richness it contributes to Champagne.
....It is a chimeric mutation of Pinot: its inner cell layers are composed of a Pinot genotype which is close to Pinot noir or Pinot gris; the outer, epidermal, layer is however made up of a mutant, distinctive, genotype.
... It gets its name and synonyms (French Meunier and German Muller meaning miller) from flour-like dusty white down on the underside of its leaves."
Payment & Security
Your payment information is processed securely. We do not store credit card details nor have access to your credit card information.