Roll over image to zoom in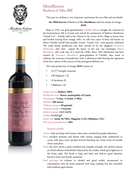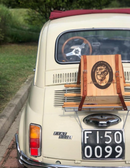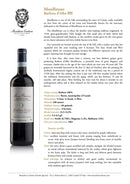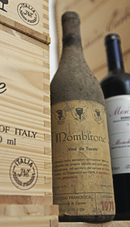 Description
Full Body, Dry (Barbera). Barbera d'Alba DOC. Alc 14.5%.
'Grand Cru' red from most celebrated hill in Canale (home to the sanctuary of Our Lady of MonBirone) by prestigious winemaker and president of Roero wine consortium!
This is the CENTENARY edition - 100 years of Monbirone - featuring the signature of the 4 winemakers who have held the secrets to this special wine since its first harvest in 1918. The total production of Monbirone 2018 Centenary Edition is 10,577 bottles; 100 magnums (buy here); 10 jeroboam and 5 balthazard. Read more HERE (winery website) and below...
Tasting in November 2022, the nose is fruity and spicy (plums, blackberry, some black pepper and cloves) with blue flowers (violets). Hints of chocolate and vanilla. Possibly more 'dark' fruit notes than expected from a Barbera. High acid and high tannin, with a very long finish. The balance is superb. Enjoy it now after a decent decant, but don't forget to lay some down and re-visit in the next 5-10 years!
MEET THE WINERY: Click here to read more background on this family-run estate.
92 Wine Advocate; 92 James Suckling; 97 VinoWay ("Premio Speciale; Miglior Rosso Dell'Anno" = Special Award; Best Red of the Year)
"Violets and dark spice dominate the black fruit on the nose and palate. Medium-bodied with fine-grained oak tannins and a coffee/chocolate finish. But the fruit persists well. Tasty. Drink now." - James Suckling
There are many styles of Barbera (from within Piedmont and also outside the region) but perhaps the two most recognisable are Barbera d'Asti and Barbera d'Alba. This wine, being a Barbera d'Alba DOC, offers a richer and more concentrated expression of the grape.
MonBirone is packed with red and black fruit flavours; rich and deep; some sweet spices and chocolate notes; very long persistent finish. This will be great with a rich dish and will also age beautifully in the bottle for years! It is a superb example of a truly complex Barbera d'Alba.
CENTENARY EDITION
From the winery:
"Back in 1918, great- grandmother Clotilde Valente bought the vineyard on the homonymous hill in Canale and started the production of Barbera Monbirone 'Grand Cru', until 1962. The tradition was carried on by her daughter Francesca Raimondo, who continued the small family production, then passing the baton to his son, the oenologist Marco Monchiero who continued it until the nineties. From 1995 to present the vinification of Monbirone has been handled by Francesco Monchiero, Clotilde's great- grandson, who wants to celebrate the centenary anniversary with a special label dedicated to the four authors who signed the success of this prestigious cru of Barbera."

Winery notes:
Colour: dark and deep with intense ruby tones, enriched by purple reflections. Nose: excellent intensity and finesse with aromas ranging from underbrush to cocoa, with spicy notes (juniper berries) blending into fruity notes of morello cherry and plum. Taste: the entry shows a great stratified and complex strength, the alcohol ensures an initial softness immediately balanced by the acidity, which gives lightness to the fruity pulp. The finish is long and fresh and delivers good harmony between fruity and woody sensations.
Food pairings: its richness in alcohol and good acidity recommend its consumption with all meats prepared with long cooking, but also enjoyable with medium-aged cheeses.
LEARN MORE: Follow this link to a podcast by Wine For Normal People that's useful for understanding more about the grape BARBERA!
Payment & Security
Your payment information is processed securely. We do not store credit card details nor have access to your credit card information.