Roll over image to zoom in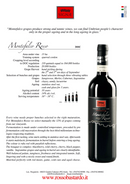 Description
Full Body, Dry (Sangiovese, Merlot, Cabernet Sauvignon, Sagrantino). Alc 14%
This is an important blend from Umbria - the land-locked region of central Italy. The local Sangiovese grape is co-fermented with international grapes Merlot and Cabernet Sauvignon, plus some of Umbria's unique endemic vine, Sagrantino.
Expect a smooth and fruity red, with some peppery notes from the Sangiovese.
Payment & Security
Your payment information is processed securely. We do not store credit card details nor have access to your credit card information.