Roll over image to zoom in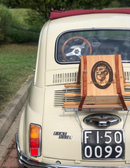 Description
Light Body, Fruity (Moscato/Muscat). Moscato d'Asti DOCG. 5.5%.
Elegant example of this famous wine style, made by 4th generation winemaker and president of Roero wine consortium!
MEET THE WINERY: Click here to read more background on this family-run estate.
From the winery:
"Moscato is one of the oldest grape-varieties in the world. Numerous references date it back as far as the Greeks and the Romans, who used to accompany their banquets with the celebrated Muscatellum. Piedmont is the region of Italy where Moscato has been most grown since the 1300s, and around 80% of the total production is still found here.
Aromatic, and sweet without being overwhelming, Moscato d'Asti is capable of surprising one and all: a wine that is both exceptionally easy for the less well-trained palates to appreciate, and sufficiently exhilarating to appeal to connoisseurs. What makes Moscato stand out from other wines is the light, sparkling quality it acquires through only partial fermentation of the sugar contained in the grape; the skilful wine-making process we undertake results in a highly fragrant, extremely appealing and elegant wine."
Winery notes:
Colour: straw-yellow with green highlights, with a mousse that forms a nice creamy ring. Nose: its aromatic qualities focus on musky notes, underlined by hints of candied lemon, wisteria and lime. Taste: as stylish and elegant as the nose, benefiting from the masterly balance between residual sugars and acidity, while the creamy finish confirms the perfect integration of the carbon dioxide.
Food pairings: the classic match is Moscato and corn cookies, or Moscato and zabaglione. You may also enjoy the freshness of Moscato with a fruit salad, fruit tarts, creamy creamy. Must serve cold, 6°-8 °C.
Payment & Security
Your payment information is processed securely. We do not store credit card details nor have access to your credit card information.