Roll over image to zoom in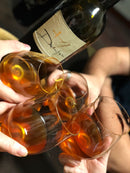 Description
ORANGE WINE (made from WHITE grapes vinified like a RED wine - with skin contact)
Full Body, Fruity (Friulano*). IGT 14% Alc.
Orange wine (white vinified naturally with seed/skin) from Friuli's passionate philosopher-winemaker.
* grape can be found under pseudonym Sauvignonasse, or sometimes Sauvignon Vert (not same as California vine, which is actually a Muscadelle). It was also mistaken for Sauvignon Blanc in Chile.
The presence of sediment is essential to keep the wine alive and to conserve it.
Payment & Security
Your payment information is processed securely. We do not store credit card details nor have access to your credit card information.