Roll over image to zoom in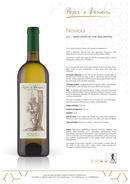 Description
Medium Body, Dry (Nosiola). Alc 12%.
A delightful mountain wine for all occasions. Expect a fresh wine with great aromas such as apple, flowers and citrus notes. Great wine for light dishes and brings out the aromas in the food.
NB: The grape's name comes from the Italian word for hazelnut, nocciola, which is the dominant aroma found in Nosiola wines.
Payment & Security
Your payment information is processed securely. We do not store credit card details nor have access to your credit card information.