Roll over image to zoom in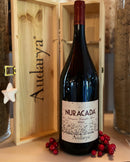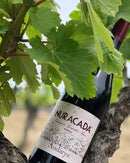 Description
Full Body, Dry (Bovale). IGT. Alc 14.5%.
Delicious, decadent red from a rare grape of Sardinia.
* 150cl / magnum = perfect for a party! *

TASTING NOTES: Notes of red fruit and sweet spices, with a long smooth character. 
GRAPE NOTES: A little-known variety, Bovale Sardo, known internationally as Graciano ... this local vine has some links to the better-known Carignan vine and is possibly related to the virtually unknown Tintilia of Molise - loved for its rich and smooth character.
WINERY NOTES: "This area, which hosts the vineyards used for this wine, was once a medieval village called Nuracada. Here we recover and cultivate an ancient autoctone Sardinian vine, the Bovale, and this wine is a very high and pure expression. It has a flavour of history and centuries, a sense of the peoples that have passed here, with notes of passion, will and respect."
Payment & Security
Your payment information is processed securely. We do not store credit card details nor have access to your credit card information.