Roll over image to zoom in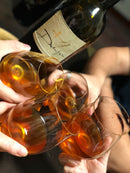 Description
ORANGE WINE (made from WHITE grapes vinified like a RED wine - with skin contact)
Full Body, Dry (Pinot Grigio). DOC Collio. 14%.
Surprising orange wine (almost like a light red, thanks to the grapes connection to the well-known red variety*) from Friuli's passionate philosopher-winemaker.
* Pinot Grigio is a colour mutation of an ancient vitis vinifera that connects all the Pinot varieties (Pinot Noir/Nero; Pinot Blanc/Bianco; Pinot Meunier)

WINERY NOTES: From the first appearance the variety shows her real dress given from the macerated violet skin. The essences perception are: aromaticity and elegance. From an unusual colour is given to experience an even more unusual taste: a soft tannin with a fruity ending which is also found by the smell.
VINIFICATION: The maceration begins in big barrels of oak for 30 days. After finishing the fermentation, it is aged in 5 hl barrels for 2 years and rests for 1 year in the bottle.
The presence of sediments is essential to keep the wine alive and to conserve it.
NB: Limited stock - maximum two bottles per customer (until larger stock available).
* this product is not included on the "eligible for promotion/discount" list *
Payment & Security
Your payment information is processed securely. We do not store credit card details nor have access to your credit card information.