Roll over image to zoom in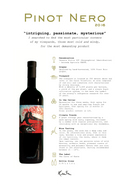 Description
Medium Body, Dry (Pinot Nero).Alc 12%.
Venezia Giulia IGT.
In the winemaker's words: "intriguing, passionate, mysterious".
"I have searched throughout my vines, for the most cold and ventilated corners, for a product that was the most demanding one."
"I always felt inspired by the world of vegetation and my vision has always been to recreate the harmony, purity and elegance found in nature. This is reflected in everything I do on a daily basis; the way I prepare my fields, bottle my wines with my cellarman and label my best work such as my "vintages". Labels made, with the art I paint on my land, during dawn, in the mornings."
In the glass, the wine has a deep ruby red color. An international wine, that in this case, becomes a true and proper expression of its territory, the Carso, where it finds its ideal terroir. Upon tasting, one can perceive notes of wild berries, aromatic herbs, pleasant roasts of minerality and balsamic flavours that are also found in the aftertaste. Serving recommended between 15 - 16°C.
A NOTE ON THE WINERY:
- At the Kante vineyards the grapes are harvested by hand.
- In the cellar, wines are neither fined nor filtered and no new oak is used (barrels are up to 18 years old). This is Edi's style and philosophy of winemaking.
Payment & Security
Your payment information is processed securely. We do not store credit card details nor have access to your credit card information.