Roll over image to zoom in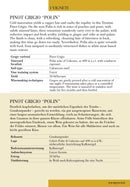 Description
Light Body, Dry (Pinot Grigio*). IGT. Alc 13%.
Popular white wine, elevated by the choice of winemaking (the ramato style) and its location (Dolomites mountain vineyards of Trentino).
A soft wine with gentle fruit and flower notes. Tasting late 2022 the fruit is still bright and acidity lively, with a round character. Notes of pear, citrus peel, yellow flowers and hints of spice (ginger). Perfect for pairing with light to medium dishes (great with dim sum) or on its own as a refreshing drink in the sun!
*Ramato - aka copper - is a historical style of producing Pinot Grigio with skins left in contact with the juice for a short time, resulting in a gorgeous copper hue!
"The added skin contact does wonders by adding another dimension of depth and savoury drinkability to Pinot Grigio" according to US wine writer Kirk Peterson. 
Payment & Security
Your payment information is processed securely. We do not store credit card details nor have access to your credit card information.