Roll over image to zoom in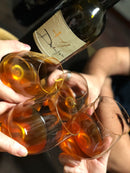 Description
ORANGE WINE (made from WHITE grapes vinified like a RED wine - with skin contact)
Full Body, Fruity (Ribolla Gialla). IGT. 14% Alc.
Complex, layered and unusual wine (more savoury than some other orange wines), from Friuli's passionate philosopher-winemaker.
WINERY NOTES: The liquid crunchiness. The secret of its beauty does not immediately bloom in the nose, where it hides, but in the mouth where it is released. The thick skin, rich in tannins, gives the wine its own flavor: from dried fruit to soft and enveloping tannins with a long and persistent mineral finish. After a sip you have the perception of chewing the wine. Immersing yourself in the glass and closing your eyes, the sensation increases: imagining walking among the rows and tasting Ribolla Gialla grain by grain.
VINIFICATION: Fermentation takes place in the presence of the skins in conical oak vats for 60 - 90 days. After maceration, it is aged in 20 or 30 hl barrels for 3 years and aged in bottle for 1 year.
The presence of sediment is essential to keep the wine alive and to conserve it. 
Payment & Security
Your payment information is processed securely. We do not store credit card details nor have access to your credit card information.